INTENSIVE REDUCING KIT
Supplements + Cosmetics
The ideal solution for taking care of your figure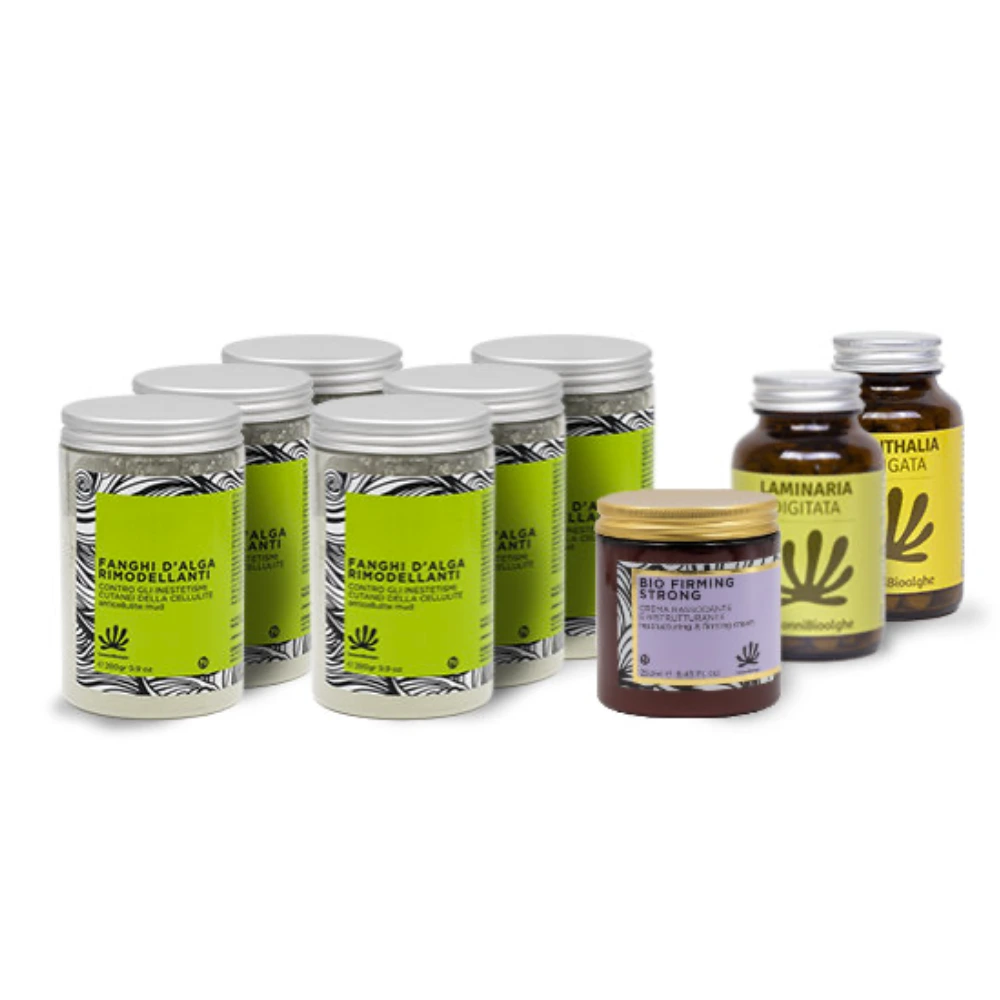 Intensive Reduction Kit
Integratori ConsonniBioalghe + Cosmetici
Il kit comprende 9 Prodotti.
€250.00 €99.00
-60%
IN FORMA, SENZA STRESS IN POCHI GESTI

RIATTIVA IL METABOLISMO
Il metabolismo lento può ostacolare la tua perdita di peso.
LAMINARIA DIGITATA riattiva il metabolismo e
riduce la cellulite con risultati visibili immediati.

DRENA I LIQUIDI IN ECCESSO
La Ritenzione Idrica è la causa di gambe gonfie, doloranti
e pesanti. HIMATHALIA ricca di Potassio stimola
naturalmente la diuresi e ritrovi subito leggerezza.

SNELLISCI LA SILHOUETTE
I FANGHI RIMODELLANTI e le ALGHE MICRONIZZATE
sono implacabili contro il ristagno dei liquidi e gli
accumuli adiposi su girovita, cosce, fianchi e addome.

RASSODA E LEVIGA LA PELLE
Il gel corpo snellente e rimodellante BIO FIRMING STRONG contrasta il rilassamento dei tessuti e gli accumuli adiposi localizzati e riduce l'aspetto a buccia d'arancia
FORMA PERFETTA IN SOLI DUE MESI
Se le diete rigide non fanno per te e devi perdere qualche chiletto, il KIT RIDUCENTE INTENSIVO è la risposta! Un Trattamento sinergico ed efficace per perdere peso in modo naturale, che ti farà trovare il sorriso e il buon umore.
Una strategia mirata ed efficace che punta a rimodellare il corpo.
In soli 2 MESI la tua forma sarà perfetta.
Il segreto della sua efficacia sta nella sapiente combinazione di più prodotti che agiscono in sinergia dall'interno e dall'esterno per un risultato assicurato, con risultati visibili immediati.
IL KID RIDUCENTE COMPRENDE 9 PRODOTTI
1 flacone di Laminaria, 1 flacone di Himantalia, 3 confezioni di fanghi rimodellanti,
3 confezioni di Alghe micronizzate e una confezione di Crema Anticellulite.


COME UTILIZZARE I PRODOTTI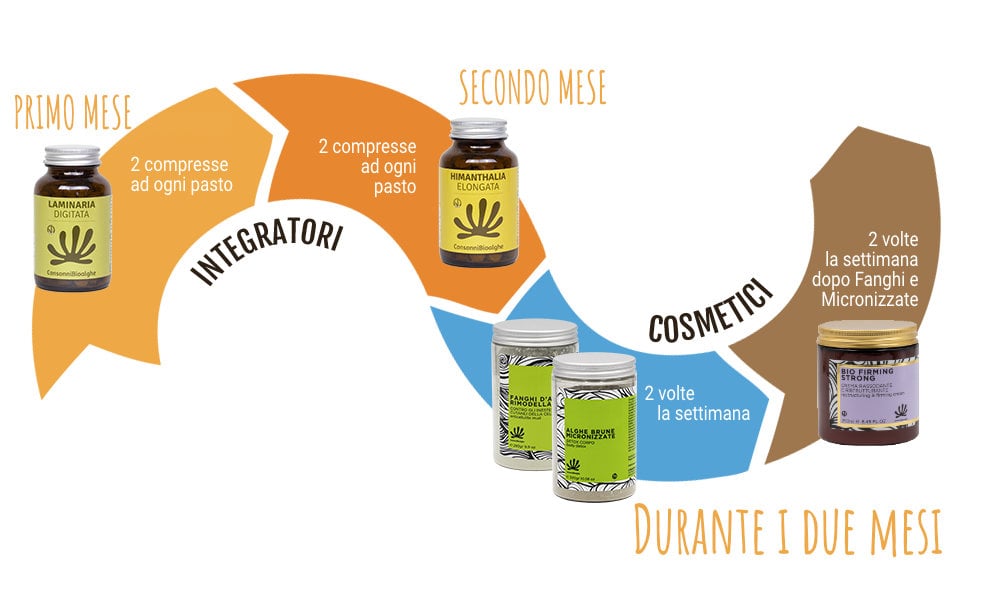 CONSONNIBIOALGAE SUPPLEMENTS ARE



Warnings Supplements are not intended as substitutes for a varied, balanced diet and a healthy lifestyle. Do not exceed the recommended daily doses. Keep out of reach of children under 3 years old. In the presence of certain physiological or pathological states, or in association with drug therapies, consult your doctor.
Contraindications Pregnancy, Breastfeeding, Hyperthyroidism, Autoimmune Thyroids (Hashimoto), Heart Disease, Acute Infections, Severe Renal Insufficiency, Psychopathies, Hypersensitivity to Iodine, Basedow's Disease, Children under 12 years.